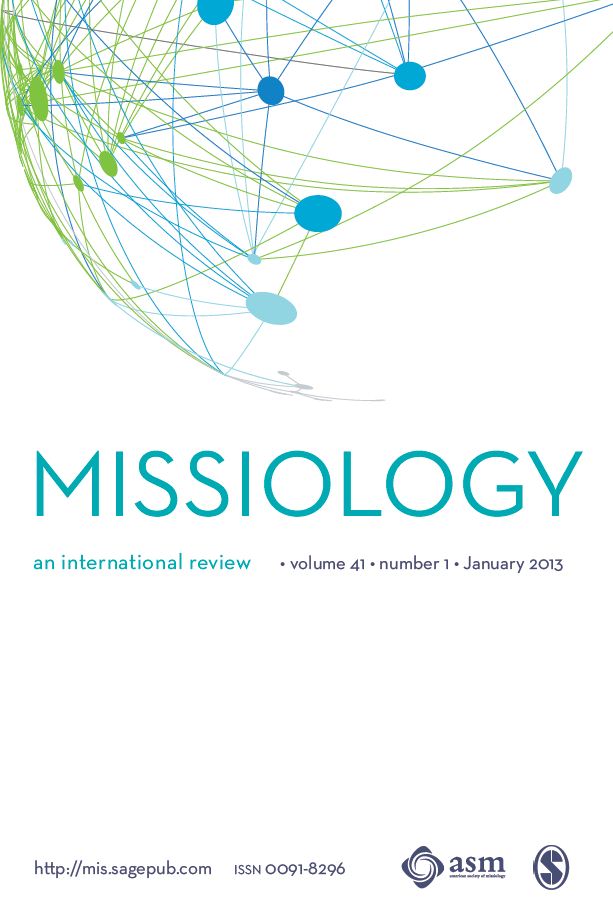 HERITAGE & HISTORY
Missiology: An International Review is the quarterly journal of the American Society of Missiology. The journal is a forum for the exchange of ideas and research between missiologists and others interested in related subjects. There are approximately 1150 subscribers worldwide.
Missiology began publication in 1973, continuing in the tradition of its predecessor, Practical Anthropology. As one of the premier scholarly journals of mission studies, it is distinctively
multi-disciplinary - history, theology, anthropology, communication theory, religious encounter, ecumenics, methodology
interconfessional - works from Roman Catholic, conciliar, and conservative evangelical spheres
practical - not just theoretical reflection, but applied mission science.
SUBSCRIPTIONS
Important Note: November 30, 2012 was the last day on which non-member subscriptions could be ordered through the Editorial Office. If you are an ASM Member, renew/subscribe using the ASM Access Portal as usual. However, if you would like to renew/subscribe but do not wish to pay ASM Membership dues as well, please renew/subscribe using the addresses listed below:
Missiology subscription rates can be found here. Single issues published in 2006 or later are also available for individual purchase: $11/copy for US orders; $20/copy for international orders. The cost of shipping is included in these rates. To order individual back-issues, contact Patti in the Missiology Editorial Office.
ARTICLE SUBMISSIONS & ONLINE ACCESS
Most articles come from unsolicited submissions, which are always welcome. All submissions are peer-reviewed, beginning with the Editor, Rich Starcher. The Associate Editors - Jehu Hanciles, Colleen Mallon, OP, Eloise Meneses, and Jay Moon - review manuscripts that pass to the next stage of review. The Editor then informs the author of a final publication decision. A set of submission guidelines is provided to aid prospective authors.
A Book Review Style Guide is also available for those who contribute book reviews. To become a book reviewer for Missiology, an individual must fill out the Book Reviewer Information Form and return it to the Editorial Office. Potential reviewers receive quarterly lists of books that are available for review and must notify the Editorial Office if they are interested in applying to contribute a particular book's review. The Book Review Editor, David Fenrick, notifies individual reviewers if they have been assigned their requested reviews.
ASM Membership information (which includes a subscription to Missiology) can be found here.
Subscribers can access Missiology online via SAGE Publications. Visit http://mis.sagepub.com/ and sign in with your username and password to access Missiology online.