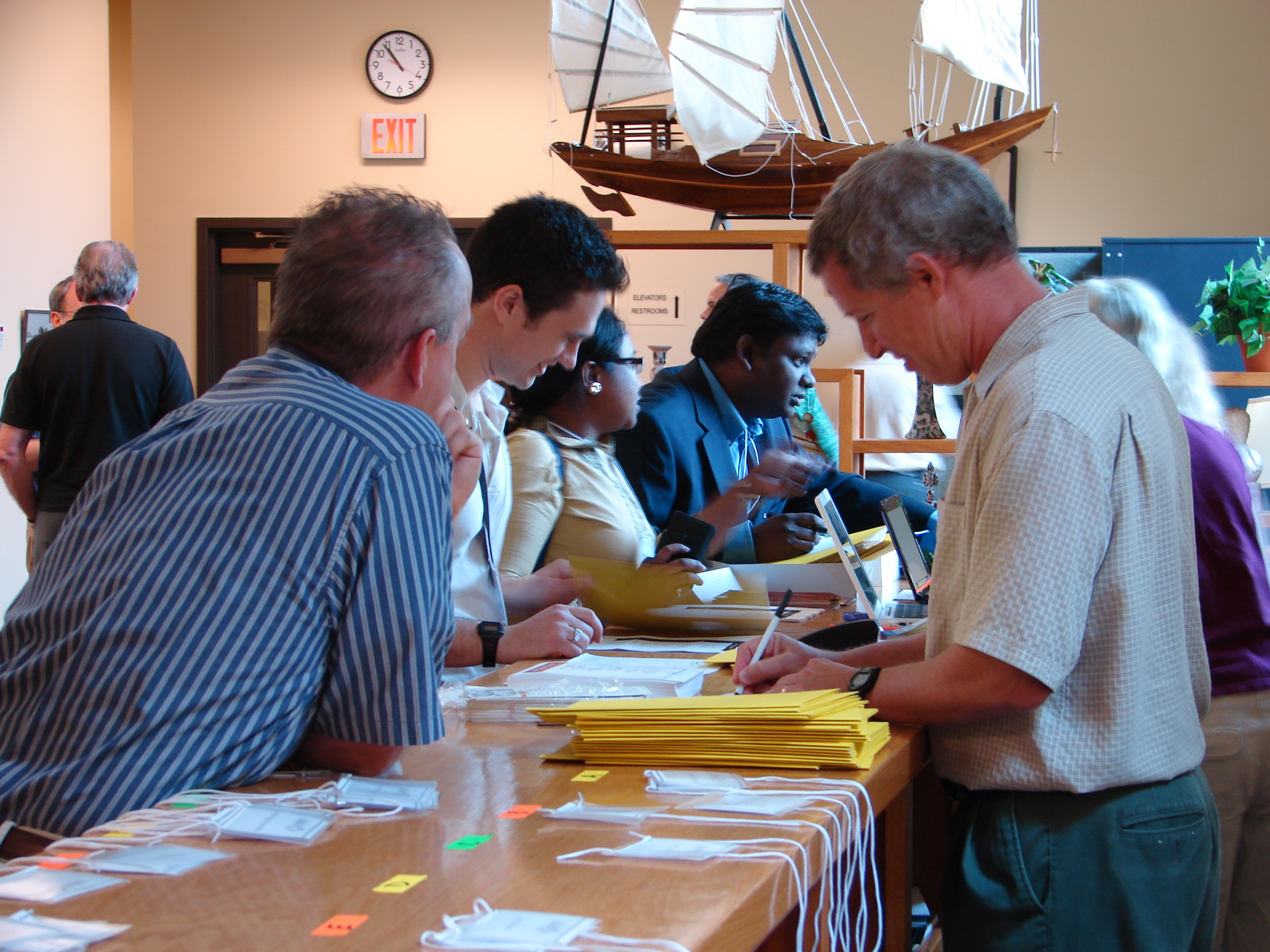 AMERICAN SOCIETY OF MISSIOLOGY
2016 ANNUAL MEETING
Dates: Friday, June 17 - Sunday, June 19
NEW Location: University of Northwestern - St. Paul, St. Paul, Minnesota
Register for the Annual Meeting by clicking here.
Check out the 2016 Annual Meeting schedules:
Missiology and Public Life:
Mission's Engagement with Societies, Change, and Conflict
Conference Theme and Call for Papers and Panels
Plenary Speakers
· Sebastian Kim – Chair, Theology and Public Life, York St. John University, UK
· Emmanuel Katongole – Department of Theology/Kroc Institute for International Peace Studies, University of Notre Dame
· Ruth Padilla DeBorst – Coordinator, International Fellowship of Mission as Transformation (INFEMIT), Costa Rica
· Mario Vega – General Director, Misión Cristiana Elim, El Salvador
· Gregory Leffel – 2016 ASM President
CONFERENCE THEME
At ASM 2005 we addressed mission's public engagement with North American society under the heading The Mission of Public Theology. George Hunsberger directed our attention to the public identity of the church-in-mission, its stance regarding broadly-shared social-political concerns, and its particular voice in a pluralistic society.
A decade on, this theme will be expanded to examine a missiology of public life and its relevance for mission within the myriad societies our missioners and churches engage in North America and around the world. Social change, of course, creates ever new challenges to public life. Change challenges missiology as well, both in terms of the growing complexity of local, national and globalizing contexts that threaten to outrun our traditional tools for describing and interpreting them — and in the additional sense that mission must also challenge emerging public conflicts and distortions found in every society and missional context.
Missiologists in every society confront complexity in describing, framing, and analyzing political, economic and cultural processes, and providing informed guidance. To one extent or another, all of our churches are embedded in historical contexts that constrain their public faithfulness regarding race, gender, ethnicity, class, poverty, the environment, and other issues. And they all contend with public ideologies and historical narratives that variously complement, co-opt, or compete with Christian faith in the public quest to establish normative foundations for life and society.
The church — wherever it is established, or is in the process of being established — must participate in ever fresh ways with shaping public narratives and supporting public action for human flourishing and the common good. It must do this not simply to be relevant (as if relevance is an end in itself), but must do this in order to publically legitimate its mission, and thus to give normative sense to Christian faith and action among non-Christian publics as well as to allow the gospel to be heard intelligibly in public.
We will examine how a missiology of public life might serve mission as it seeks to:
· Apply a distinctive and critical Christian perspective to matters of society at large;
· Contribute to an intellectual grounding for Christian public engagement;
· Find common ground with others to act cooperatively and collaboratively within pluralistic settings;
· Resource individual Christians, churches, and organizations/movements to apply their faith to public concerns; and
· Frame a broad-based missiological language to link various theological/missiological traditions of Christian social engagement including social ethics; public, political and contextual theologies; and traditions of Christian charity, justice advocacy, development/transformation, incarnational witness, as well as social, liberationist, and civil rights movements.
Questions abound about secularization and privatized religion; about class, race, and ethnic and economic marginalization; about violence; about internal class and political tensions within Christianity; about interreligious public theologies; about the Earth itself. What can we learn from histories of political theology in, say, South Africa, or from liberation theology, including their critiques of mission? How do we address old tensions between good works and evangelism (between, that is, justice and justification)? Or understand public advocacy, collective social action, critique and dissent? All this is, of course, just to name a few of the questions before us.
Our goal, however, is to frame the outlines of a missiology that informs a mission that is public in its concern and in its shared social participation, critical of the powers, and constructive in supporting society and nurturing a vital way of life that bears witness to the reign of God.
CALL FOR PAPERS AND PANELS
Paper Presentations
High-quality papers are invited that reflect on the conference theme from a missiological perspective from any context. Papers might address topics including (but not limited to):
Secularization and privatized religion

Class, race, ethnic and economic marginalization

Social and political divisions among Christians

Conflict, violence, and peace-building

Interreligious public theologies

Ecological responsibility

Political theology and liberation theology, including their critiques of mission

The relationship between good works and evangelism—between, that is, justice and justification

The nature and value of public advocacy, collective social action, critique, and dissent

Historical analysis of the church's public engagement
Papers not directly related to the conference theme will also be considered, as space allows.
This year, we invite proposals for presentations in Korean and Spanish to be included in Spanish/Korean language panels. For more information, contact Enoch Jinsik Kim (enochk2000@fuller.edu) for Korean presentations or Johnny Ramirez-Johnson (ramirez-johnson@fuller.edu) for Spanish presentations.
올 해에는 한국어와 스패니쉬어로도 연구 발표 접수를 합니다. 한국어 발표에 관한 자세한 문의는 Enoch Jinsik Kim (enochk2000@fuller.edu) 으로 연락해 주시기 바랍니다.
Este año, invitamos propuestas para presentaciones en coreano y español. Para obtener más información acerca de las presentaciones en español, póngase en contacto con Johnny Ramírez-Johnson (ramirez-johnson@fuller.edu).
To submit a paper proposal, provide a title and 200-word abstract at the following link: http://goo.gl/forms/2AoD1Kjx7V. (Deadline January 31, 2016) At the meeting, 20 minutes are provided for each presentation and 10 for questions and answers. Submissions from higher-level graduate students are encouraged.
Confirmation of accepted papers is expected by March 1, 2016.
Submit papers and confirm meeting attendance by June 1, 2016.
Organizing a panel
We strongly encourage teams of three to five presenters to coordinate and submit proposals for panel sessions focused on topics related to the conference theme. In addition to paper presentations, panels can include respondents or extended periods of discussion. The panel organizer should submit a session title, 300-word abstract, and a list of participants. In addition, each panelist should individually submit a paper proposal. We also welcome proposals for panels that do not involve formal paper presentations: e.g., a film screening followed by discussion. Questions about formulating a panel proposal can be directed to Alison Fitchett Climenhaga (afitchet@nd.edu) and Bonnie Sue Lewis (BSLewis@dbq.edu). Again, the deadline is January 31, 2016.
To submit a panel proposal follow this link: http://goo.gl/forms/AKpHW4RDf6.
Confirmation of accepted panel proposals expected by March 1, 2016.
Questions?
· For paper proposals or panel proposals, contact Bonnie Sue Lewis (ASM 2nd VP; BSLewis@dbq.edu) and Alison Fitchett Climenhaga (afitchet@nd.edu)
· For the ASM travel pool, contact Robert Danielson (ASM treasurer; robert.danielson@asburyseminary.edu)
· For the conference in general, contact Gregory Leffel (ASM President; gleffel@onehorizon.org)
Over the past few years, we've seen significant growth in attendance at our annual meeting and a rapid increase in the number of papers presented in the parallel sessions. Do plan to join us at University of Northwestern this year, and encourage your colleagues and students to take advantage of the wonderful ASM program that is coming together.
CLICK HERE to view materials and articles from previous meetings.
For information regarding the AETE annual meeting, please go to the
AETE website at www.aeteonline.org.