Board Minutes
//note that the style tag did not exist in original method - JTL modified trying to vertically align the slides
???
???
??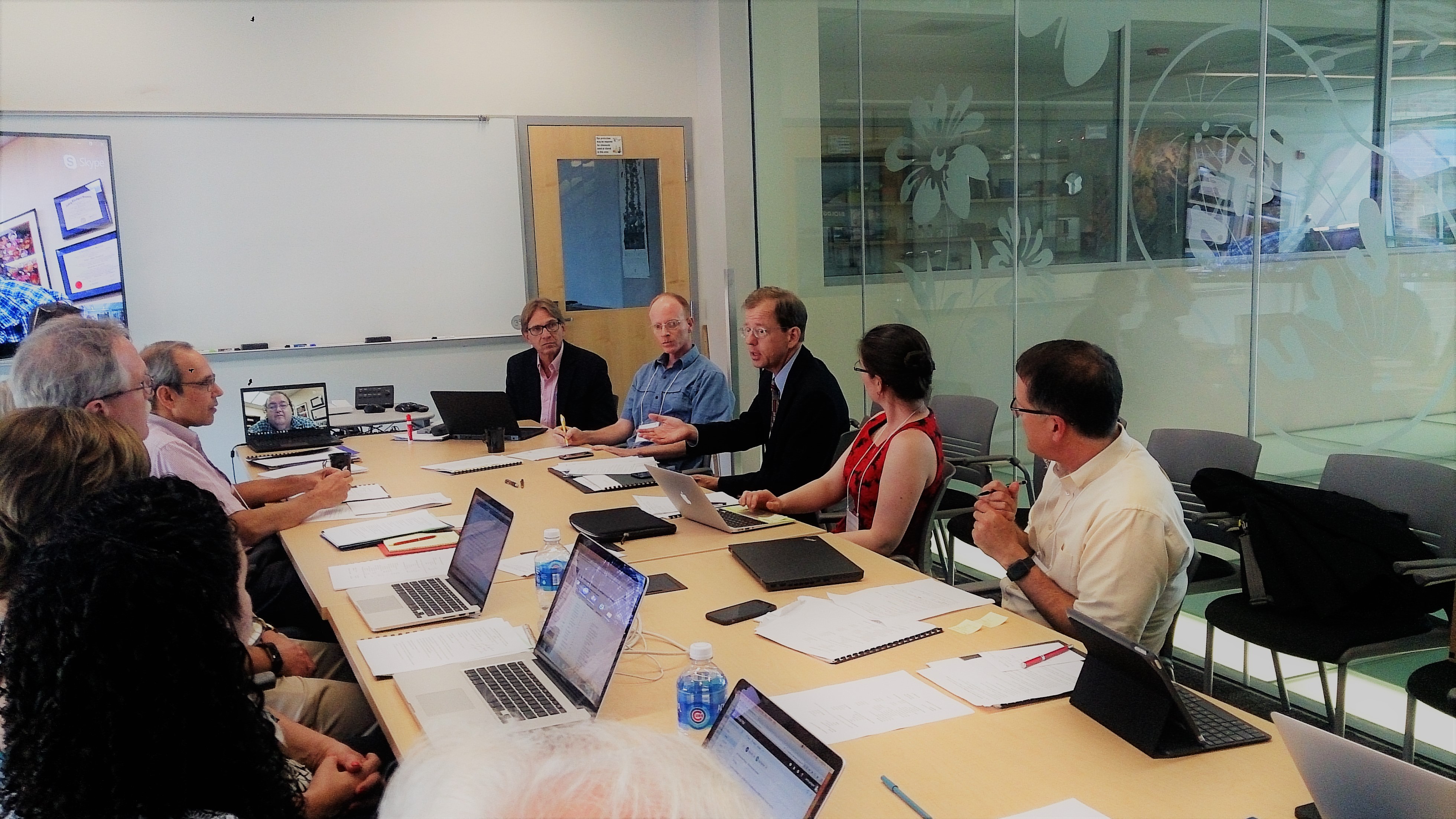 American Society of Missiology
Board of Directors - Fall Retreat
October 29 - 30, 2017
Moreau Seminary, University of Notre Dame
Members Present:
Bonnie Sue Lewis (President), Allan Effa, Paul Kollman, Ben Hartley, Sarita Gallagher, Mike Haasl, van Thanh Nguyen, Al Tizon, Kim Lamberty, Arun Jones, Alison Fitchett (invited). Robert Danielson joined us via Skype Sunday evening and Richard Starcher, Leanne Dzubinski and Darrel Whiteman joined us for the Monday meetings.
Regrets:
Joon-Sik Park, Scott Sunquist, Ruth Padilla DeBorst
1. Opening Prayer: Bonnie Sue convened our meeting by inviting us into God's presence, and recognizing the presence of Christ in one another.
2. Introductions and Personal/institutional Updates: We took time to share our names, where we are located and updates.
3. Approval of Minutes: The minutes of June 16 and 18, 2017 were approved as circulated.
4. Treasurer's Report: Robbie circulated a Treasurer's Report and an ASM Conference Meeting Cost Comparison. Robbie noted that only 7 people applied for the travel pool this year. We acknowledged that we have not done a good job of promoting this. Paul suggested that Richard would be a good person to provide names of scholars who are submitting articles to Missiology and who might be encouraged to come to ASM meetings.
5. Secretary's Report: Allan reported that the ASM archives that had been held at Billy Graham Center have now been transferred to Asbury Seminary Library. With the surge in new members at the recent ASM Conference, 105 new names were added to our MailChimp list and we now have 1,442 subscribers. Our Facebook page now has 688 followers. Our website updates are complete and the password retrieval feature is functional. The link to Missiology has been restored.
6. Looking forward to 2018 by review of 2017 survey monkey affirmations and concerns: We broke into small groups to analyze the data and discuss some of the things we are hearing.
Facilities: Paul alerted us that it will take a while for people to get used to our new space; our plenary sessions will be in a theatre setting. We will need to find ways to provide space for networking to occur. The dining room is set up in such a way that we could have our Friday and/or Saturday night plenary there. The majority of residence rooms at St. Mary's are not air conditioned. We may want to reserve a block of hotel rooms on St. Mary's campus. We need to have transportation information to share with ASM members.
Programming: We identified the need to be more inclusive to practitioners. We discussed some "behind the book" conversations where members could meet with missiological writers and ask questions of them. We identified the need to reflect more diversity in the ASM and the loss of traction with the Hispanic tract. We identified a need to attract more members of the African American community to ASM; should we develop a special tract?
Constituency: Perhaps we could ask practitioners to respond to some of the panels and maybe have a practitioner respond to one of the plenary speakers. Having respondents who are praxis focused (Liberation theologians?) could also strengthen this. We could have a focus on innovation in mission led by practitioners at round-tables or colloquia. Another possibility is to host poster sessions, where presenters have 3 minutes to present their innovative ideas and then there are opportunities for people to interact with them afterwards.
Ethos: We identified the fact that networking and social engagement is the glue that makes ASM special. As we become larger we need to be intentional about creating smaller group meeting opportunities. We talked about special lunch meetings with plenary speakers where we can discuss more about their presentations. We identified the need to have more fun and/or social events. We do not want to lose the ecumenical nature of the ASM.
7. Morning Prayer: We adjourned for the night and met again Monday morning with Al Tizon leading us in reflection on Acts 9 and the conversion of Saul. A number of us shared stories of how we became engaged in mission.
8. The 2018 Annual Meeting:
We toured St. Mary's College campus and then reflected on how we might implement some of the ideas we discussed last night.
Bonnie Sue circulated pages with speakers and details of the Conference theme. A number of names were brought forth as potential speakers/storytellers. We considered a proposal to offer conference interpretation for the deaf for the plenary sessions and special panels dedicated to deaf worship and mission to the deaf. A preliminary estimate of $2,640 was presented. We moved, seconded and carried that we would spend up to a maximum of $3,000 on this.
Nominating Committee Report: Paul is working with Sarita and Darrell on developing a slate of officers.
9. Korean Advisory Committee: Enoch Kim joined us via Skype to discuss the email correspondence with David Hwang and a proposal for a Korean Advisory Committee. We also discussed a proposed Memorandum of Understanding from the Korean Society of Mission Studies. Bonnie Sue proposed that Al Tizon, Darrell Whiteman, and Leanne Dzubinski review and propose a revised MOU that will be sent out to the board for email approval. This ad hoc committee was instructed to consult with Scott Sunquist on this process and to hammer out details concerning the Korean leadership within ASM.
10. Funding for APM Retreat: Linda Whitmer requested $6,000 support for their annual board retreat. Moved, seconded and carried that we provide $3,000 as a one time grant.
11. Travel Pool: Moved, seconded and carried that we raise the cap on the travel pool fund to $6,000.
12. Partnership with Hispanic Bible School Directors: Hunter Farrell shared a request from Fernando Cascante for $2,000 to send four or five heads of Hispanic Bible colleges to the 2018 ASM annual meeting. It was moved, seconded and unanimously approved that ASM provide up to $2,000 for AETH (Associaciόn para la Educación Teolόgica Hispana) to send 4 heads of Hispanic Bible colleges as well as Fernando Cascante to the June 2018 ASM annual meeting.
13. SearchLite Coaching Grant: Hunter Farrell presented another request, this time from Stan Nussbaum, for $3,500. This money would be used for a SearchLite coaching fee for denominational executives, who could employ missiologists to deal with difficulties they were facing. (See attached "Proposal for research grant by ASM board: "SearchLite" mini-projects by five mission agencies"). The grant would fund 5 projects at $600/project plus $500 for an evaluation of the program. There was discussion about the proposal. The ASM Board of Directors voted unanimously to provide a forum at a panel session in the June 2018 meeting for the SearchLite project. This forum is dependent on Stan Nussbaum and others proposing a panel on SearchLite. No special funds were allocated for the forum.
14. Annual Grants: Ben Hartley suggested that in the future, ASM could provide one grant per year for a scholar-practitioner research project. This suggestion was met with approval by the Board members, but no formal action was taken.
15. ASM Student Paper Competition: The Board read a report from Bill Gregory about the ASM Student Paper Competition. This year's winner is Anicka Fast of Boston University.
16. Board of Publications Report: Ben Hartley reported from the Board of Publications. He emphasized that not only is he new to the position of chair, but also new to the Board of Publications. He is looking for input from others regarding its work. The previous chairs of the Board of Publications, Bill Gregory and Arun Jones, had informed him that there were two new initiatives possible in electronic publishing, namely blogs and podcasts. For podcasts, Michael Sweeney has volunteered to help. Ben received some recorded lectures from OMSC, and with OMSC's permission, Michael Sweeney is editing them to be used as ASM podcasts. Ben provided an example of how an ASM podcast would sound. Ben also contacted Daniel White Hodge regarding podcasts, and Daniel provided much information and advice. As far as blogs are concerned, Ben has been asking people to write posts for the ASM.
17. Missiology Report: Rich Starcher gave a brief report on the last issue of Missiology. Al Tizon mentioned that Missiology should also seek to promote underrepresented voices, such as that of racial/ethnic minorities and women.
18. 2019 Annual Meeting Theme: Al Tizon reported on the 2019 annual meeting, which will have the title, "Lifestyles of the Rich and Faithful: Stewardship, Simplicity and Mission" (see attached report). He has gotten commitments from Ron Sider, Father Benigno Beltran of the Philippines, and Deborah Mumford to be plenary speakers.
19. 2020 Annual Meeting Theme: Arun Jones reported on his thoughts for the 2020 ASM meeting (see attached). He received feedback on his various suggestions for a theme, as well as names of additional people to consider.
20. Lifetime Achievement Award: Because the meeting ended before this item could be discussed, the board members were polled and the executive members reviewed the results of the tally, confirming George Hunsburger as our recipient of the 2018 ASM Lifetime Achievement Award.
Respectfully submitted:
Allan Effa, Secretary
Authorized for Distribution:
Bonnie Sue Lewis
Bonnie Sue Lewis, President
Al Tizon, 1st Vice President
---
Board of Directors Meeting
Sunday, June 18, 2017
Wheaton College, 255 Science Building
Members Present:
Bonnie Sue Lewis (President), Arun Jones, Sarita Gallagher, Darrell Whiteman, Hunter Farrell, Allan Effa, Allison Fitchett (invited), Kim Lamberty, Leanne Dzubinski, Bill Gregory (sitting in for Ben Hartley), Joon-Sik Park, Al Tizon, Scott Sunquist, Mike Haasl, Paul Kollman, van Than Nguyen, Ruth Padilla DeBoerst, Robbie Danielson (skype)
Absent:
Rich Starcher, Ben Hartley
Bonnie Sue opened in prayer and welcomed the new board members, asking each one to share a bit about their work.
The board expressed deepest thanks to Paul Kollman for a great year of service and an excellent meeting.
Initial Review of Conference
We benefitted from the fine logistical service of Eric Durbin of the Wheaton Conference services.
Allison noted that some of the same people have been presenting papers consecutively and wondered if we should give preference to people who have not presented recently.
Leanne pointed out that some people wanted to organize a panel but did not know anyone beforehand so could not organize a panel.
We noted that the papers presented this time were of a high quality. We discussed ways for practitioners to share some of their best practices in a colloquium type setting. When a more informal colloquium session is planned, we should ensure that a senior faculty member is present. Having strong panels and papers on Sunday seemed to help keep a high attendance to the very end.
Kim noted that much of the conference seems to still be geared to scholars and professors with less content directed to practitioners. This should be discussed more fully in the fall board meeting.
Joon-Sik also reported that that Korean language papers were of a high quality.
Continuation of Friday Board Meeting
Bill Gregory reported that Mike Sweeney may be able to help develop our website offerings.
Allan shared that he reviewed the ASM archival materials currently stored at the Billy Graham Museum and that they are unable to receive new materials and are willing to transfer our holdings to a new location.
MSC that we move our archival materials currently held by the Billy Graham Center Museum Archives to Asbury Theological Seminary Archives as an unrestricted gift and that our president write a letter to Bob Shuster at the Billy Graham Museum Center requesting release of our archival materials.
Allan, Robbie and Bonnie Sue will work on the logistics of shipping the materials.
Proposal of MOU with Korean Society of Mission Studies
Bonnie Sue reported that this society has been in existence since the 1970s and is made up primarily of mission professors and practitioners. They are seeking a formal partnership with us to broaden their exposure and relationships with the larger missiological community. They are an ecumenical Protestant society.
Some reluctance was expressed about signing an MOU at this moment and we decided to postpone this until the fall meeting. We need to do further inquiry concerning the theological position of the group, their posture toward working with Roman Catholics, and toward the role of women in leadership. We will inform them that this is a new thing for us and will need more time to process this.
We received a request from Enoch Kim to set up a Korean Advisory Team to work under the umbrella of ASM. We will revisit this in the fall board meeting.
We identified the need to reach out to a number of such groups (Latino, African American, young urban scholars, etc) and develop pathways to network with these groups. Ruth Padilla DeBoerst will strategize with the Latino group, Sarita will strategize to reach younger people, and we will ask Daniel Hodge to consider leading a panel next year with a focus on urban mission in North America.
Date for Fall Board Dates
Tentative dates for Fall Board Retreat - October 29, 2017, beginning with dinner until Monday October 30 at 3:00 PM
Refunds for Cancellations
Paul informed the board that we are refunding people 1/3 of the cost of registration for last minute cancellations. This should be considered a policy, though we can entertain exceptions in unusual cases.
Grant Request
We received an informal request for funding from APM to help fund an annual executive board retreat. We deferred this to the fall board meeting and need a formal proposal from APM. Sarita will inform the new APM president of this.
Reconstitution of Nominating Committee
We should send suggestions for committee members to Bonnie Sue. Steve Bevans was suggested. We should have this in place before the fall board retreat.
Travel Pool
Arun reminded us of a previous decision made in 2010 to open up our travel pool beyond Canada and the 48 contiguous states, with a limit of $400.00 per request. Robbie suggested that we raise the total travel pool pay-out to $6,000, continuing with a cap of $400.00 maximum per person. This can be reviewed again in the fall. Moved, seconded and carried.
We adjourned at 3:15 PM with Al Tizon closing us in prayer.
Respectfully submitted:
Allan Effa, Secretary
Authorized for Distribution:
Bonnie Sue Lewis, President
Al Tizon, 1st Vice President
---
American Society of Missiology
Board of Directors Meeting
Friday, June 16, 2017, 3:15-5:15
Wheaton College, 255 Science Building
Members Present:
Paul Kollman (President), Bonnie Sue Lewis, Arun Jones, Frances Adeney, Rich Starcher, Patti Colombo, Sarita Gallagher, Dan Shaw, Darrell Whiteman, Greg Leffel, Hunter Farrell, Allan Effa, Allison Fitchett (invited), Bryan Froehle, Kim Lamberty, Bill Gregory, Al Tizon, Scott Sunquist, Mike Haasl, Robbie Danielson (skype)
Absent:
Ruth Padilla DeBoerst
Approval of Minutes
The minutes of the October 2016 BOD meeting were approved as presented.
Meeting updates
a. AETE/APM. Darrell informed us that AETE intends to join us at St. Mary's next year.
b. Registration, housing, rooms. We have a large number of registrants this year and have had some cancellations. Allan, Allison and Paul are proposing that we offer a refund of 1/3 of the conference registration fee. In the future, we should indicate that there will be no refunds after a certain date.
Treasurer's Report.
A written report was circulated to the members. We continue to receive more income than we are spending. Scott requested that future treasurer reports have data from three years, side-by-side, for comparison purposes. Bryan also suggested that the report should separate out certain activities such as conference expenses, web development, and the annual board retreat. We want to make sure we know if our conference expenses are in line with the income from conferences. We need to develop a standardized report for conference income and expenses.
We have not invested any of our funds to date. The board expressed support to move forward with this as soon as possible. We reaffirmed our earlier email decision to invest funds and decided that we would invest $100,000 in the United Church Fund identified by Bryan Froehle.
Nominating Committee Report
The committee selected three board members and a second vice-president. VanThan Nguyen (Roman Catholic) Leanne Dzubinski (Independent), Joon-Sik Park (Conciliar), and Arun Jones (Second VP).
Board of Publications - Roberta King (I), Robert Hurteau (RC), and Ben Hartley (C), class of 2020 members. Phil Huber, Aaron Wessman and one more is being contacted to fill positions that became vacant due to resignations. This slate will be presented at the Business Meeting on Saturday.
Board of Publications Report.
The board requests allocation of up to $1,500 for the purchase of a computer for Patti Colombo's use with Missiology. Moved, Seconded and Carried.
We have received requests for publication of Korean language papers in our ASM working papers. The Board will endorse this provided we can find a capable editor to oversee this. Bryan also suggested that, if we move forward with publishing papers in other languages, that we also provide the abstracts of each article in the languages of the series (Korean, English and Spanish).
Daniel White Hodge has offered to prepare podcasts for our website. He and Allan will work on that.
Phil Huber has also offered to develop a preaching blog focused on missional preaching. We need someone to manage our website blog.
Bryan raised concerns about the sustainability of these projects over the long term.
Appreciation was expressed to Arun and Bill for their excellent service to the board.
Miscellaneous Items
We discussed how to include the Korean missiologist group in a more official manner. We need to encourage Enoch Kim to come up with a specific proposal. Bonnie Sue Lewis has been appointed to talk this over with Enoch and explore this further.
Members who died since the past meeting:
Iain MacLean, Alan Kreider, C. Peter Wagner. We will ask for names at the plenary session and then memorialize these people during the Saturday evening.
Future Conference/Symposium Themes and Details
a. 2018 Conference Theme - Bonnie Sue Lewis (Interfaith friendship as incarnational practice). Plenary speakers have been secured.
b. 2019 Conference Theme. Al Tizon is working on something around "Lifestyles of the Rich and Faithful: Stewardship, Simplicity and Mission." Possible speakers are Ron Sider, Kate Bowler, and Father Benigno Beltran.
Upcoming conference dates and venues
June 14-17, 2018 St. Mary's College/Notre Dame, Indiana
June 13-16, 2019 St. Mary's College/Notre Dame, Indiana
We will need to have an earlier registration deadline with a penalty for later registrations because we need to have numbers for the conference host earlier.
Saturday's Business Meeting agenda 4-5pm on Saturday
a. Secretary's Report
b. Treasurer's Report
c. Board of Publications Report
d. President's Report: esp. location of meetings in 2018 and 2019
e. Elections
f. Announcements: 2018 Meeting - theme and speaker announcement
g. Any other business
We expressed deep thanks to our retiring members (Bryan Froehle, Frances Adeney, Dan Shaw).
We concluded at 5:10 PM
Respectfully submitted:
Allan Effa, Secretary